World's Best Non-Invasive Treatment For Removing Benign Skin Lesions
NO ANESTHESIA. NO DOWNTIME. NO SCARS.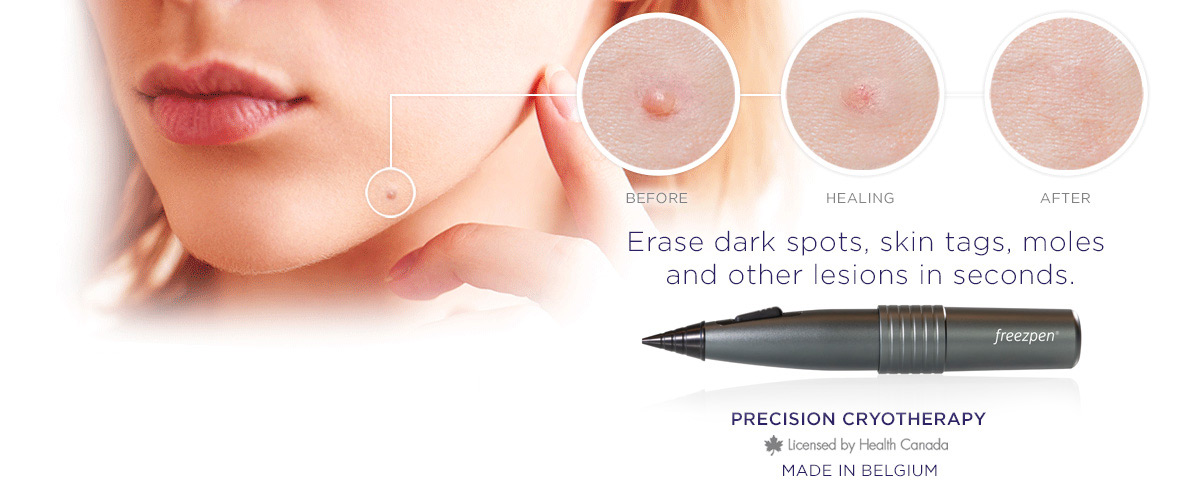 FreezPen erases benign skin lesions and blemishes safely, precisely and comfortably, with cryotherapy.
FreezPen is a safe, quick, and effective solution for all benign lesions:
Skin Tags (fibroma pendulum)
Professionals: Interested in the FreezPen device?
Cryotherapy with FreezPen: The most precise and efficient cryotherapy treatment
What is Cryotherapy:
Cryotherapy is the gold standard for removal of skin lesions in dermatology and aesthetic practices.
It is the controlled destruction of unwanted skin growth through the application of extreme cold.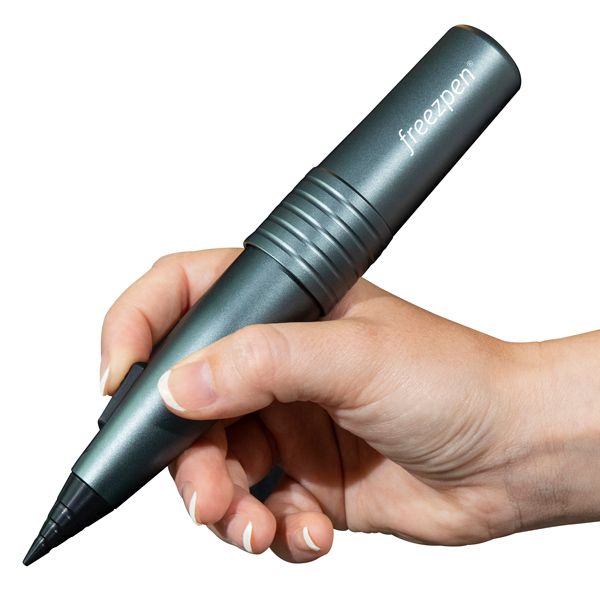 How FreezPen Works

1. FreezPen emits high-pressure N2O gas (-89 °C) that rapidly and precisely freezes the affected area
2. Water in the lesion cells freeze, expand and rupture the cell membrane.
3. Targeted lesion cells are destroyed, and the lesion disappears after healing
Why FreezPen?
It's the most stress-free option that enables smooth and fast treatments of common benign skin lesions.
FreezPen:
Fast
Safe
Precise
Comfortable
No anesthesia
No downtime
No scars
Other devices:
Lack of precision
Damage to healthy cell tissue
Pain
Multiple treatment sessions required
Risk of Scars
Risk of hyper/hypo-pigmentation
FreezPen 16g for Aesthetic Applications

Comes with:
16g FreezPen device
One box with x12 N2O cartridges (16g each)
Small 1-3mm applicator (blue)
Medium 2-6mm applicator (white)
Large 4-8mm applicator (green)
Tweezers for easy filter replacement
FreezPen silicon stand
18 months warranty
In-person Training & Certification
Comprehensive marketing package including rollup banner, poster, B&A flip chart, pictures, videos, assets for social media, and more.
Listing on our FreezPen website (www.FreezPenClinics.com) to help bring clients to your door
Ongoing clinical, marketing, and technical support
Treating with FreezPen: fast, precise and safe.
Benefits for your patients:
Versatile: Treat any benign lesion on any part of the body
Results: For most lesions, patients will only need one treatment.
Quick: Patients can be in & out in just 10 minutes.
Comfortable treatment: No need for local anaesthesia.
No downtime: Patients can go back to daily activities immediately after the treatment.
No surgical procedure: No cuts, no bleeding, no excision, and no sutures.
Sterile: No risk of infection.
Precise and safe: Controlled pressure allows targeting the lesion with minimal impact on the surrounding healthy skin
Easy: No special post-care necessary.
Benefits for your business:
Treat clients in seconds
Offer effective solutions to many types of skin lesions
Most efficient and precise form of cryotherapy
Practical, easy to use, light-weight ergonomic design
Affordable
No maintenance
Professionals: Interested in the FreezPen device?