Promote skin repair and reduce the appearance of wrinkles, scars, stretch marks with the complete Dermaroller® Collagen Induction Therapy Professional & Home Care System. Dermaroller® micro-needling equipment is licensed by Health Canada. It's clinically proven, precision-manufactured, medical-grade technology, available to aesthetic professionals throughout Canada.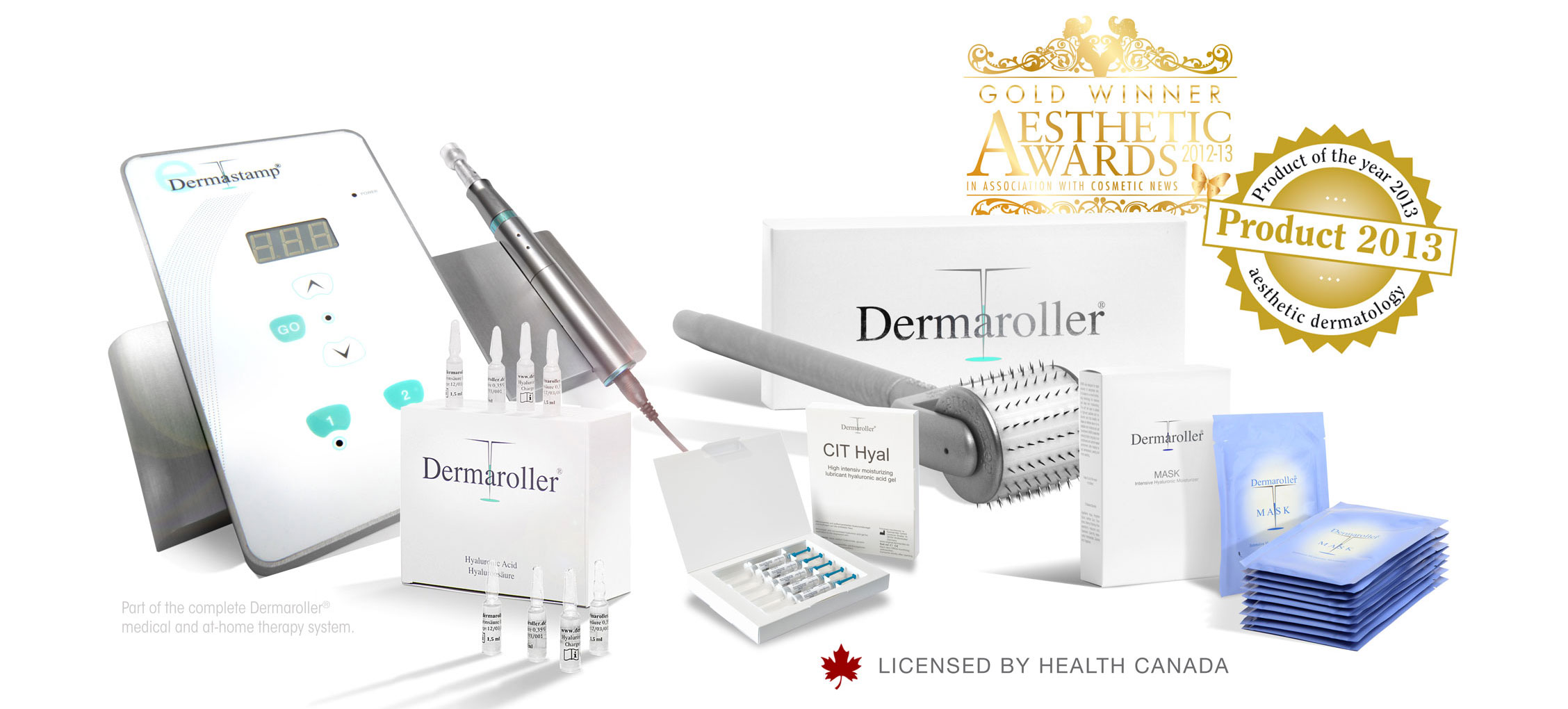 Scientific solution for the most common symptoms of aging
Collagen Induction Therapy (Mirco-Needling)
When it comes to minimally invasive treatments, Micro-needling Collagen Induction therapy with the Dermaroller® is clinically proven and is perhaps the most successful treatment available for the common signs and symptoms of aging such as wrinkles, loss of skin volume, and crepey skin. The Dermaroller® micro-needling treatment even targets the epidermis in such a way that it is clinically proven to minimize scars and stretch marks. Dermaroller® therapy triggers the body's spontaneous healing process, stimulating cell proliferation and causing the formation of new collagen. This results in a thicker, more supple, cellular matrix. Results: visibly younger looking skin.
PROOF: The image shows a biopsy of the epidermis before and after micro-needling therapy. Significant new collagen (dyed purple) has been generated, 6 weeks after a single treatment.
How It Works
The Dermaroller® causes minimally invasive precision micro-injuries of the epidermis and dermis, without causing open wounds or ablative damage. The puncturing channels close after a short time and these micro-injuries trigger the body's wound healing cascade, which induces an increased collagen production in the treated skin. Dermaroller® triggers the construction of new tissue by stimulating healthy cell regeneration in precision-targeted areas that show the signs of aging. It effectively reduces wrinkles, tightens and thickens the skin, and – perhaps most impressively – fills and smooths scars.
Beware of imitations. Dermaroller® is the original device of it's kind. All other derma-rolling devices have been fashioned after the Dermaroller® and it's important to understand the differences.
Dermaroller® is Licensed by Health Canada
The Dermaroller® is licensed by
Health Canada
. There are countless imitation products on the market that are not licensed by Health Canada so we recommend you do your research, to protect your health and safety. Search for
Dermaroller's Health Canada license
.
Certified Medical-Grade Equipment
The Dermaroller® is ISO13485 certified, meeting all standards for medical-grade equipment in manufacturing, materials, sterile packaging and more. NOTE: Though it is a certified medical device, it's not limited to physician use. With appropriate training offered through Dermaspark, non-medical spas can administer this treatment.
Safe Micro-Needles
The medical-grade micro-needles of the Dermaroller® are atraumatic (non-traumatic) cone-shaped needles that displace the skin during the puncture process, creating a micro-wound that seals within minutes of treatment. Poorer quality roller devices are made with knife-shaped needles that slice through tissue and risk causing traumatic skin, vessel and nerve damage. Poor quality needles also require increased pressure, making for a more painful treatment.
Non Ablative
Where other scar and anti-aging treatments are ablative (destroying tissue), the Dermaroller® respects the integrity of the epidermis and dermis, using atraumatic (non-traumatic) perforations to gently trigger the generation of new tissue.
Optimal Needle Count
Don't be mislead by imitation rollers that boast "the most needles". Though we want to maximize the number of perforations, too many needles compromises the safety and comfort of the treatment. Imagine a bed of nails: while a bed of nails can easily support your body weight without a nail perforating your skin, a single nail would easily penetrate your skin under the same pressure. Similarly, a roller with too many needles will require dangerous and uncomfortable amounts of pressure in order to penetrate the skin to the appropriate depth. The Dermaroller® employs the optimal number of needles to maximize effectiveness, safety and comfort.
The Original Dermaroller® Professional Products
The Dermaroller® is a drum-shaped medical device, studded with rows of fine micro-needles. It is rolled over the skin to cause minimally invasive perforations of the skin. There are various roller heads of different widths and with different length needles, depending on the treatment indication and area.
The eDermastamp® is an advancement of the classic Dermaroller®, in which the microneedles are not applied manually to the skin but by motor power that moves a needle module up and down with a high frequency. The needle length is adjusted according to the indication and treatment area.
Both the Dermaroller® and eDermastamp® are certified medical devices that were invented, and are manufactured, in Germany.
Dermaroller®'s topical therapies are specially formulated for use during and after micro-needling. The process of micro-needling creates micro-channels which optimize deep absorption of topical active ingredients.
This product line can only be performed by a certified professional, and the certificate should state Dermaroller®.
Dermaroller® Home Care Products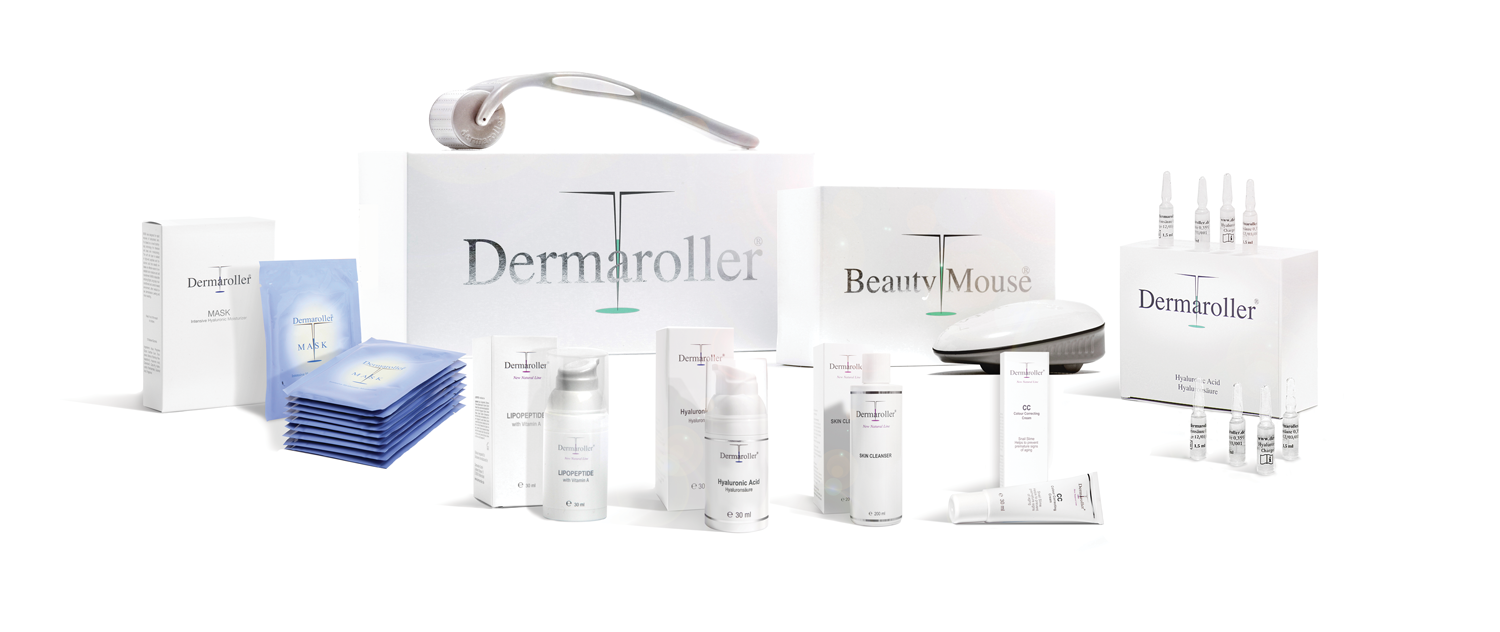 Dermaroller Home Care Products are designed for intermediate skin care at home, after a Professional Dermaroller treatment.  Roll at home with the Dermaroller Home Care Roller (for the face, neck and décolletage) and the Dermaroller Beauty Mouse (for the body) to maximize the results of a Professional treatment.
The Dermaroller line of creams and serums are formulated with powerful anti-aging nutrients, like  Hyaluronic Acid and Lipopeptides combined with vitamins A, C and E, which are essential for efficient and effective cell proliferation. They are specifically formulated for maximum absorption  and to be gentle enough for use following a micro-needling treatment, where the skin barrier has been microscopically broken.
Dermaroller Home Care products are  safe for use at home, and are sold exclusively through clinics that offer Dermaroller® Professional treatments.
Dermaroller is constantly innovating product formulations according to the latest in skin care science to deliver the best results!
Dermaroller Home Care Roller (For the face, neck & décolletage) & Beauty Mouse (For the belly, back, thighs and buttocks)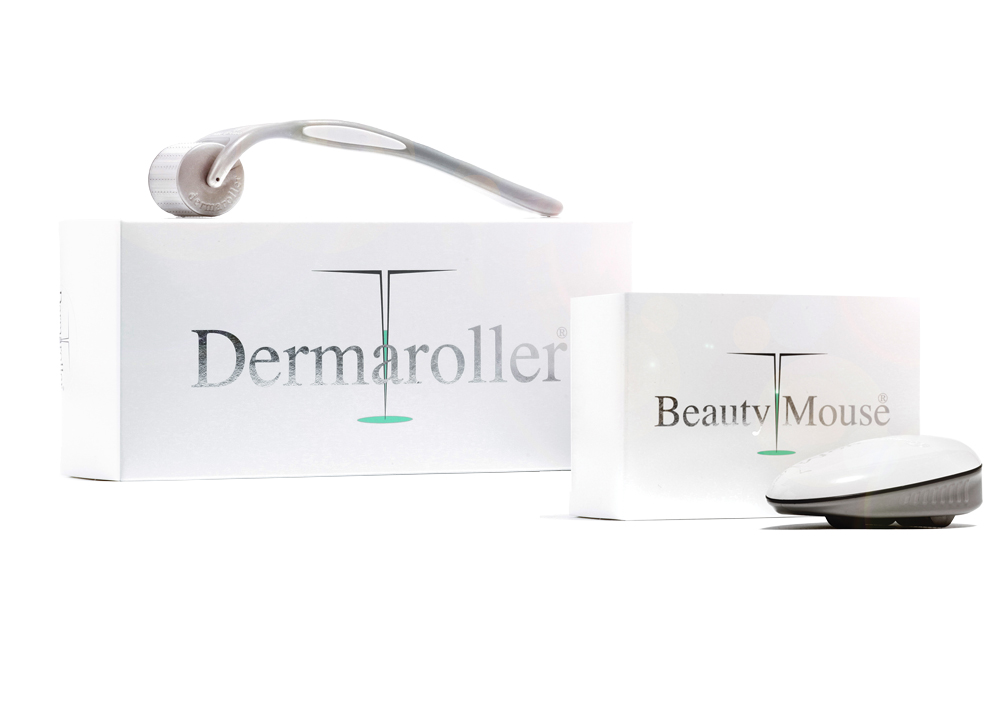 Maximize the results of your Professional Dermaroller treatment and reduce the signs of aging at home, with the Home Care Dermaroller.  Treatment with Home Care Dermaroller® has an affect on many active skin layers of the Epidermis, and contributes to the generation of collagen types 6 and 7 which are found in the connective tissue between the Epidermis and Dermis. Safely and easily reduce wrinkles, improve hydration, and maximize absorption of the beneficial ingredients in the Dermaroller Home Care Line. Roll up to 3 times a week for up to one year with this roller.
The Beauty Mouse is a roller designed with more needles to treat larger areas of the body. Treat stretch marks, scars, and cellulite on your belly, back, thighs and buttocks.
How to use
Hold the roller lightly and roll in all directions (mimicking a star formation) over the face, neck and décolletage.
The Beauty Mouse should be held like a computer mouse and roll it in all directions (mimicking a star formation) over the belly, back, thighs, and buttocks to improve skin tone and texture and diminish scaring and stretch marks.
Stats
Employs medical grade a-traumatic (non-traumatic) needles (0.2mm long)
Optimal number needle count (162)
Durable and can be used 3 times a week for up to one year
Safe and easy to use
Significantly enhances infusion of important nutrients
The Beauty Mouse:
3 rollers
Total of 396 a-traumatic (non-traumatic), medical grade needles, that are 0.2mm long
Designed to treat larger areas of the body (belly, back, thigh, buttocks)
Results
Brighter and fresher skin
Allows for better hydration, when used with the Dermaroller Home Care products
Reduces wrinkles
Stimulates proliferation of collagen and elastin
The Beauty Mouse does all of the above, plus:
Firmer skin
Reduces scars and stretch marks
Lipopeptide with Vitamin A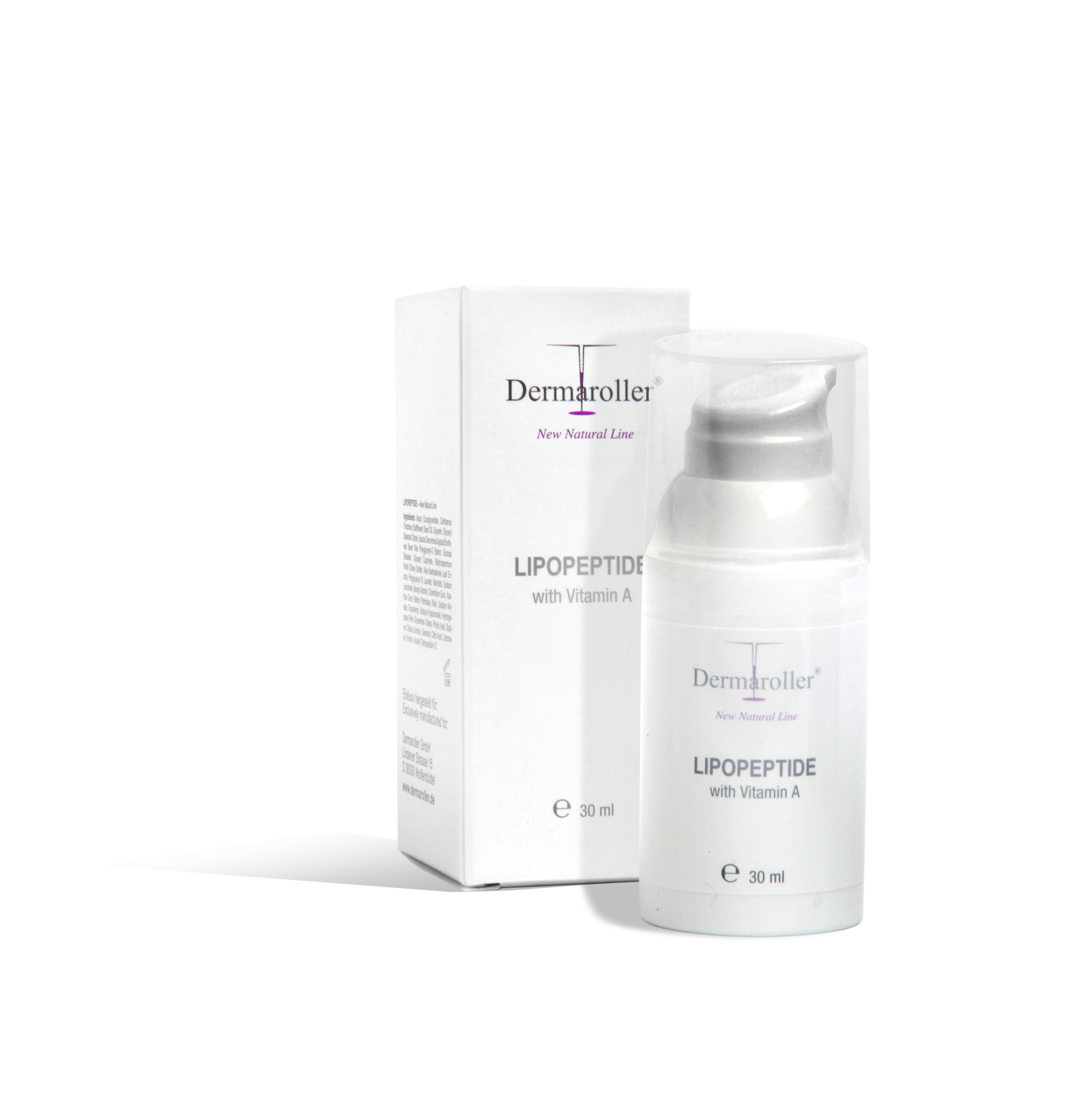 This night cream is formulated with peptides in combination with non allergic Retinyl Palmitate (vitamin A) to stimulate the cellular matrix, new collagen, and fibronectine.  It reduces irritation and inflammation, while hydrating. Skin becomes more luminous while new collagen firms the skin and gives it a more youthful elasticity.
How to use
After skin cleansing, apply thin layer and gently massage into skin. Avoid eye contact.
Key Ingredients
ALOE LEAF JUICE POWDER (soothes, heals & protects against UV)
SHEA BUTTER (skin conditioning and thickening agent)
PLANT EXTRACTS (antioxidant)
VITAMIN A
VITAMIN E
Results
The appearance of skin irritation and inflammation is reduced
Skin is hydrated
Complexion appears more luminous and smooth
New collagen provides a more supple, youthful appearance
Hyaluronic Acid (ampules/dispenser)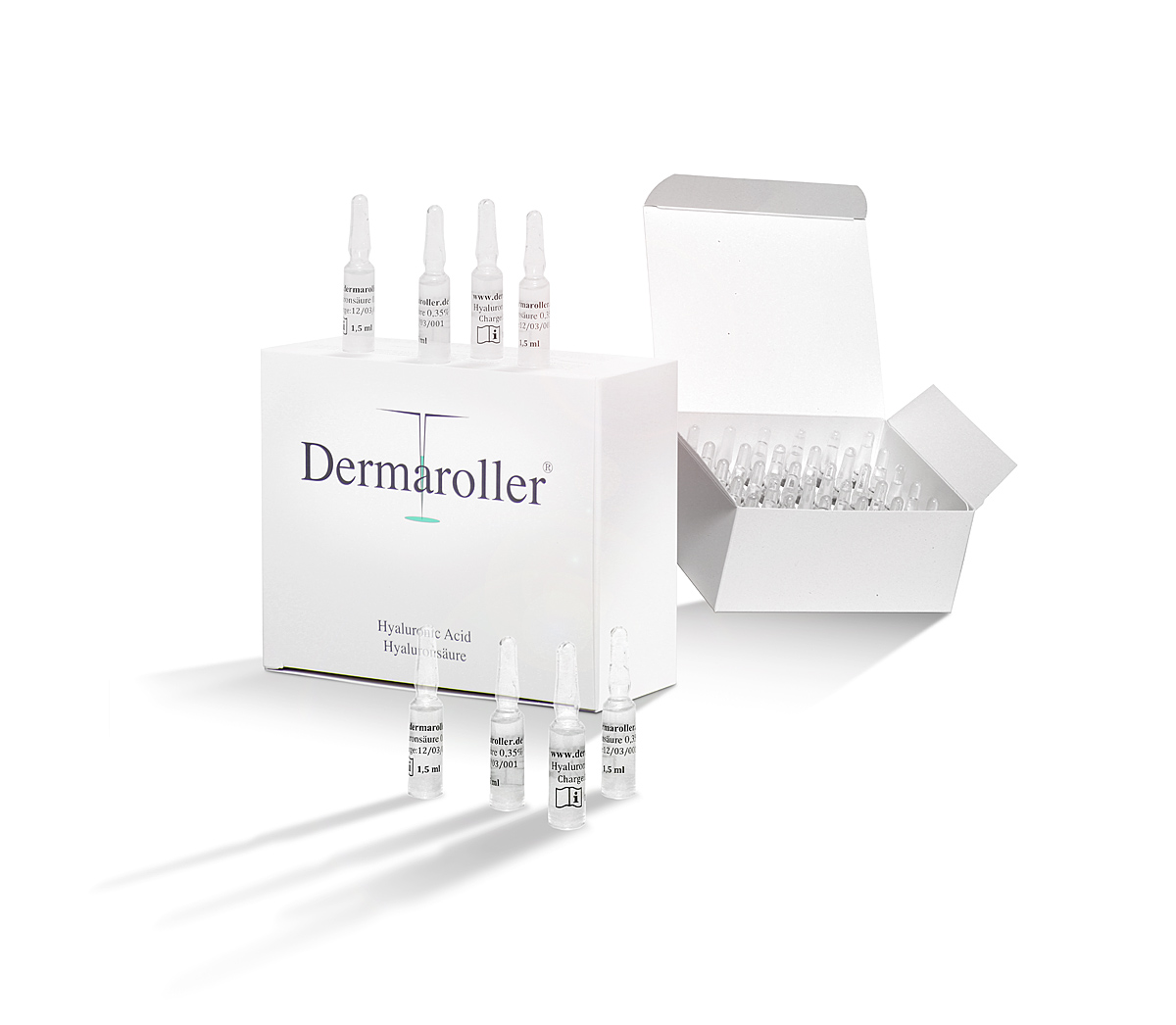 Dermaroller Hyaluronic acid is perfectly formulated to support the natural moisture of the skin. It binds with water that fills spaces between collagen fibres, keeping them resilient and elastic, while stimulating the proliferation of collagen and elastin. Reduce wrinkles and expect younger looking skin — smoother, brighter, fresher, and with renewed volume and all-day moisture.
This product is available in ampules (30 ampules, 1.5ml each) as shown, or in a 30ml dispenser.
How to use
After skin cleansing, gently massage into the skin. Avoid eye contact.
Key Ingredients
HYALURONIC ACID (anti-aging properties, naturally found in joints and eyes)
CHLORELLA (Skin conditioner & protector with massive amounts of vitamins and minerals)
VITAMIN C
VITAMIN B3 (niacin)
VITAMIN E
Results
Collagen formation is boosted
Epidermis appears firmer and tighter
Inflammation is reduced
Skin elasticity is improved
Skin is hydrated (not oily)
feels smooth and silky
Moisturizer ACE with Vitamins A, C & E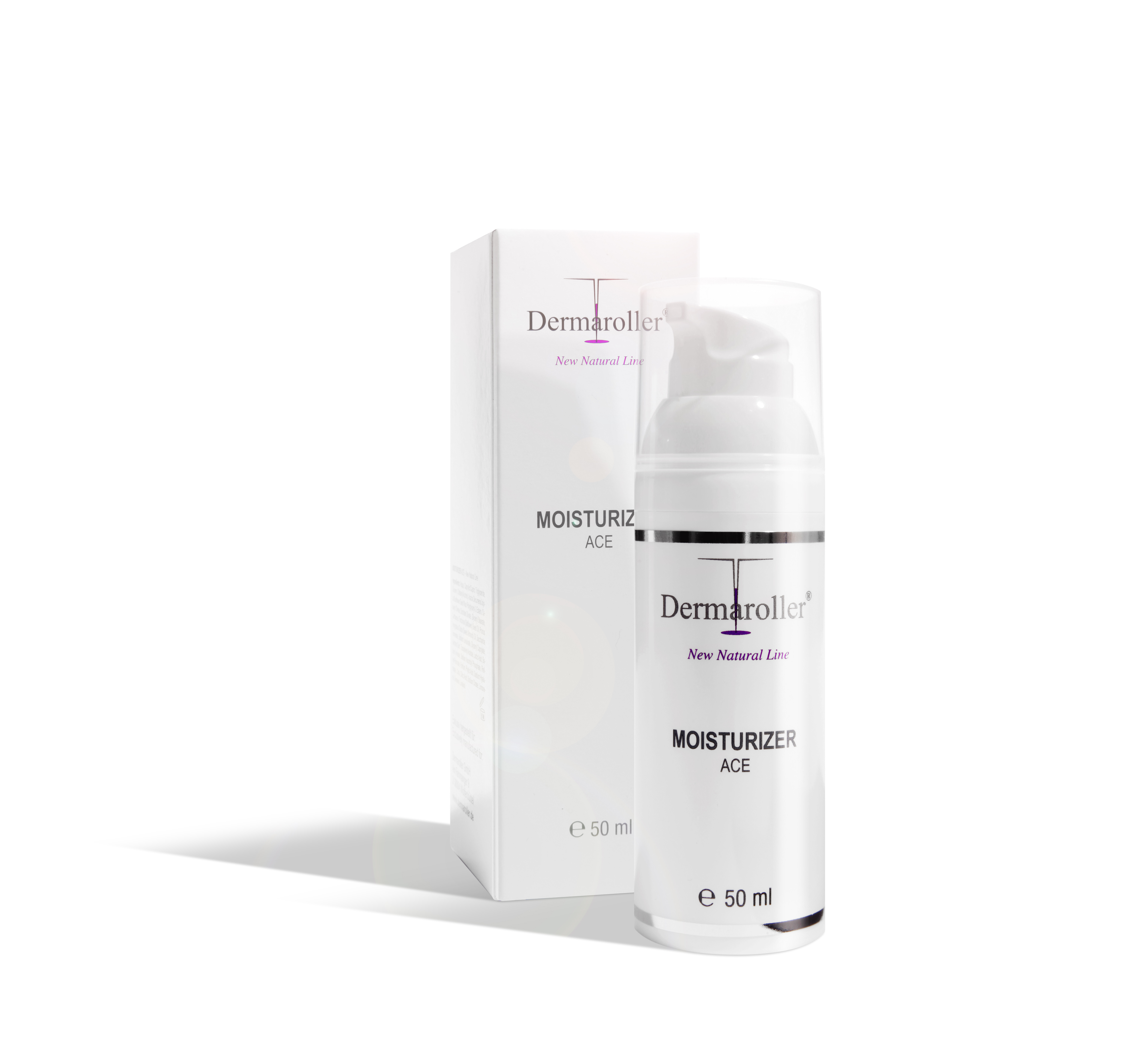 This day cream moisturizes while reducing trans-epidermal water loss, supporting your skin to retain it's own natural moisture. After rolling, it infuses your skin with antioxidants, vitamins, and minerals that are essential in promoting fast and effective skin-cell proliferation. The result? Your skin appears enriched and deeply hydrated, strong and firm, smooth and luminous! With continued use as part of the home care system, you will visibly reduce the signs of aging.
How to use
After skin cleansing, apply thin layer and gently massage into skin. Avoid eye contact.
Key Ingredients
VITAMIN A
VITAMIN C
VITAMIN E
SALT OF HYALURONIC ACID (helps retain moisture levels in the tissue)
Results
Epidermis appears enriched and deeply hydrated
Skin appears strong and firmed
The visible signs of aging are reduced
Skin appears smooth, toned, luminous and glowing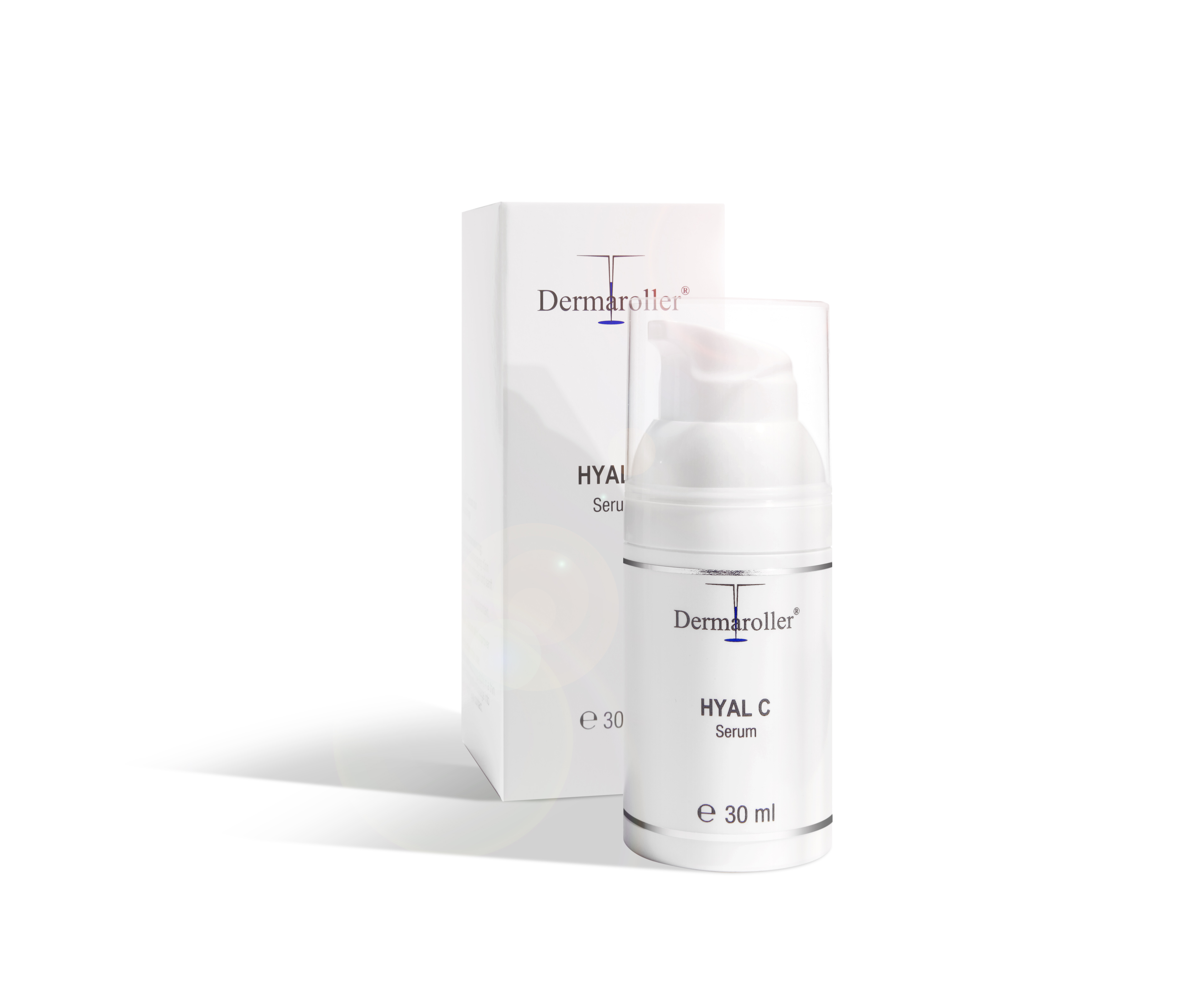 Hyal C Serum is an intensive moisturizing serum with hyaluronic acid and vitamin C that leaves your skin deeply hydrated (not oily), while reducing inflammation and minimizing the effects of aging. The formula is made up of smaller molecules that can penetrate deeply into the skin after rolling and deliver a very high concentration of active ingredients that boost the formation of collagen, improve elasticity, and leave your skin looking firmer and tighter and feeling silky-smooth.
How to use
After skin cleansing and before moisturizing, apply thin layer and gently massage into skin.
Key Ingredients
HYALURONIC ACID (anti-aging properties, naturally found in joints and eyes)
ALLANTOIN (Powerful Moisturizer)
VITAMIN E
Results
Brighter and fresher skin
Volumizes and moisturizes
Reduces wrinkles
Stimulates proliferation of collagen and elastin
CC Cream (Colour Correcting) with Snail Slime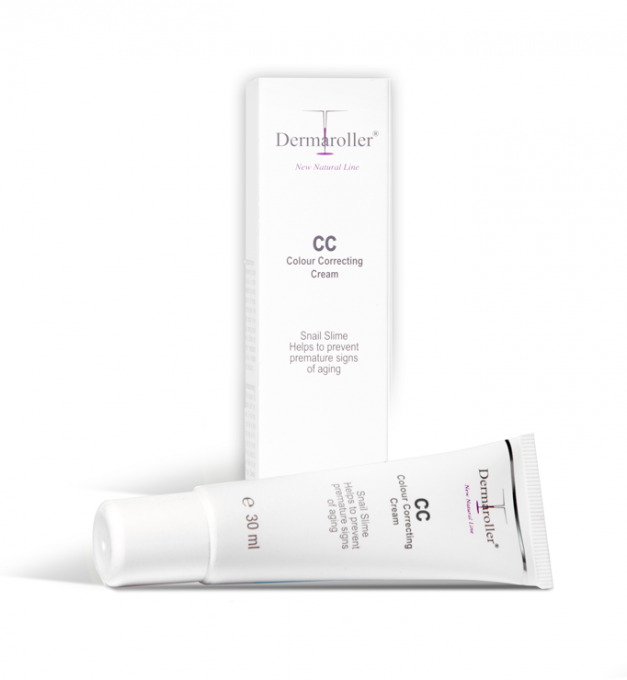 Dermaroller CC (Colour Correcting) Cream instantly color-corrects and blurs flaws, leaving skin illuminated and bright. It contains color-neutralizing shades to target every skin concern. This exclusive formula contains snail filtrate, a naturally potent formula that is shown to stimulate collagen and elastin, promote healing, and protect skin from free radicals while deeply hydrating. Use Dermaroller CC Cream as a foundation and to retouching a flawless makeup application.
How to use
Spread over clean, dry face with fingers or brush. Start from the centre of the face towards the edges, cover any redness, puffiness and other imperfections. Also use to retouch a flawless makeup application throughout the day.
Key Ingredients
SNAIL SLIME (Snail Secretion Filtrate – fights premature aging and heals skin)
VITAMIN E
Results
Even skin tone
Hydrate
Promote skin repair
Flawless make-up look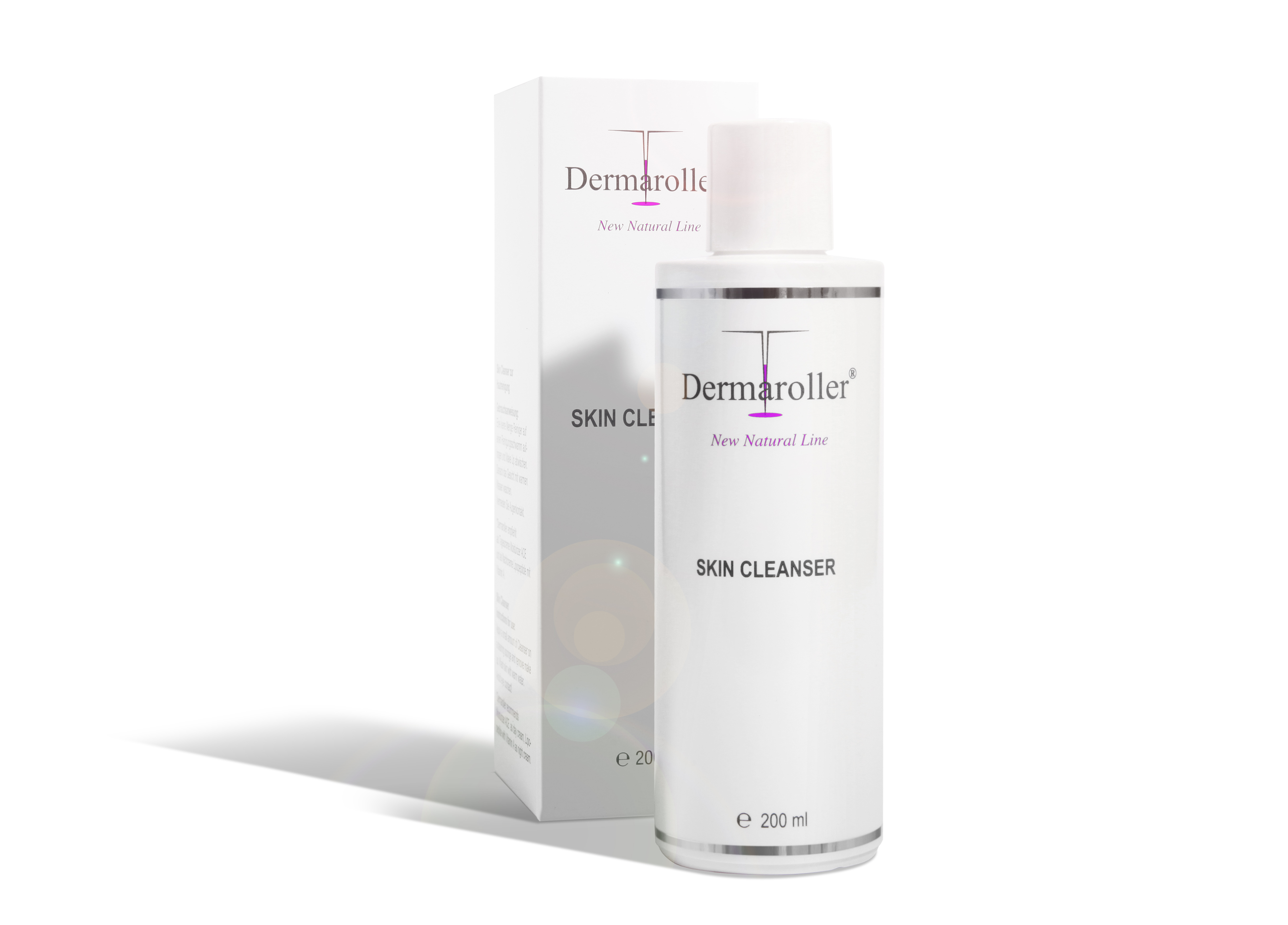 This gentle cleanser is specially formulated for use after Dermaroller Professional and Home Care treatments, when the skin is left with microscopic opens and is, therefore, more sensitive. It is rich in vitamin C and antioxidants. It gently cleans while thoroughly removing pore-clogging oil, dirt and impurities and improves the complexion for fresh and clear skin.
How to use
Apply a small of cleanser on a cleaning sponge and remove make-up. Wash skin with warm water. Avoid eye contact.
Key Ingredients
ALOE LEAF JUICE POWDER (soothes, heals & protects against UV)
CITRIC ACID (smooths, moisturizes and has anti-wrinkle effects)
ORANGE PEEL OIL (excellent for use on sensitive, irritated skin – antibacterial)
MILD CLEANSER (designed for fragile & sensitive skin)
PASSIONFLOWER EXTRACT (conditions & protects)
CLEANSING AGENT (derived from coconut oil)
Results
Minimize the look of pores
The skin is perfectly cleansed and calmed
Skin is purified and detoxified
The skin is softened
Complexion appears clear and radiant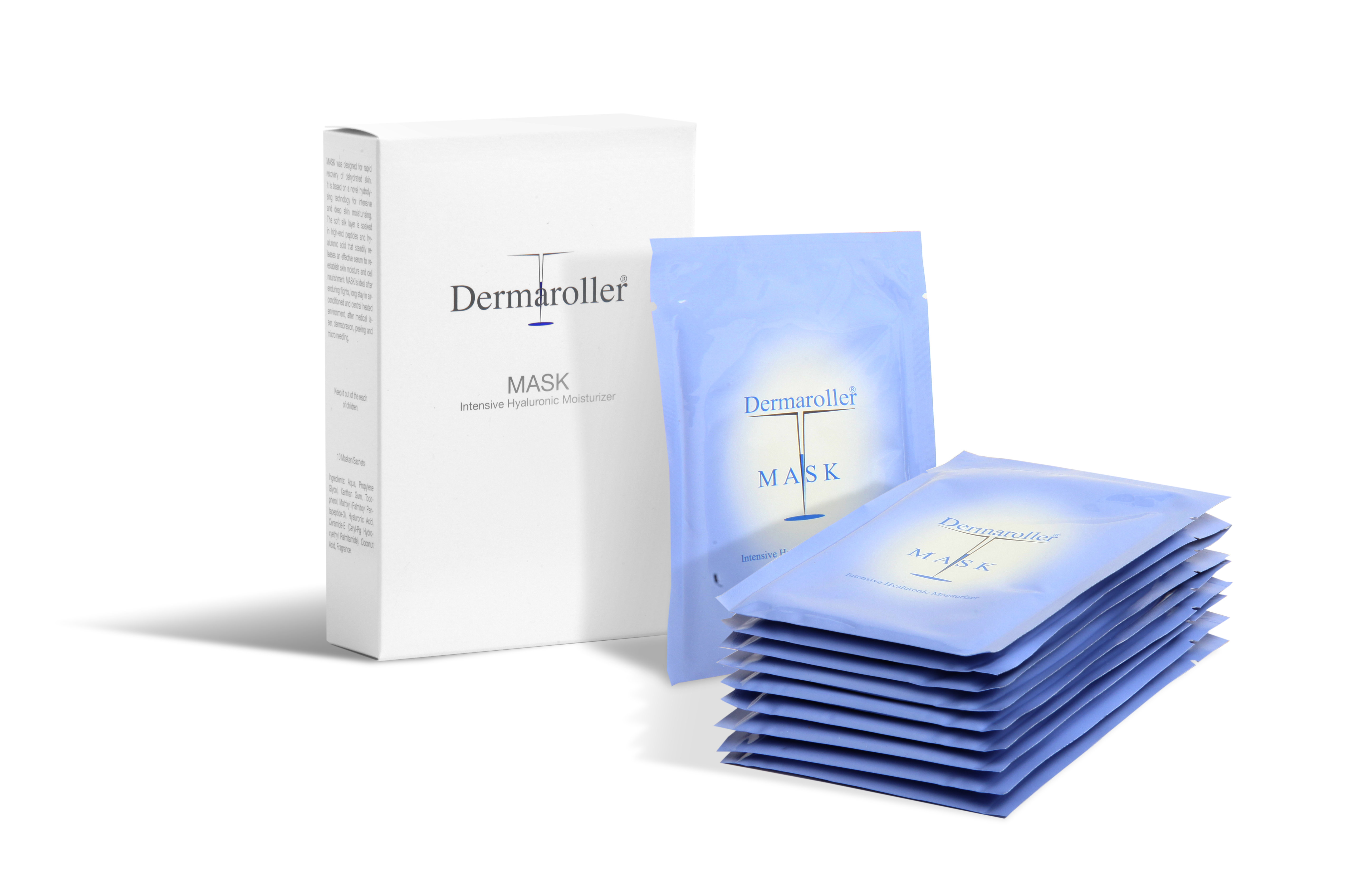 Want intense moisturizing? The hyluronic moisturizing mask is made of silk, soaked in ultra-moisturizing Hyaluronan and Matrixyl peptides that steadily release a transformative serum to re-establish skin moisture and and nourish the skin. The mask is specifically designed for rapid recovery of dehydrated skin. It's highly recommended after your Professional Dermaroller treatment, as well as after any abrasive treatment such as laser, dermabrasion, and peel treatments. And NOW you can take this luxurious mask home!
How to use
Clean face and hands. Open the sachet and take out the mask, unfold, remove the blue protective layer and cover the face. Remove the white protective layer and pat the silk evenly on the skin. Leave on the skin for at least 20 minutes or, for full utilization, wait until the silk is dry. Remove mask and gently massage the residual serum into the skin.
Key Ingredients
HYALURONIC ACID (anti-aging properties, naturally found in joints and eyes)
MATRIXYL (doubles the synthesis of collagen and skin repair)
Results
Intense Moisture
Rebalances skin
Stimulates proliferation of collagen and elastin
Volumizes
More about the Dermaroller®
Your Business: Why Dermaroller®
Dermaroller® is the original micro-needling tool
The Dermaroller® is a certified medical device
The Dermaroller®'s superior design gets results with a minimal amount of penetration force required, offering a safer and more comfortable treatment
The Dermaroller® does not damage tissue; it's designed to trigger cell proliferation in a minimally invasive manner
The Dermaroller® is popular around the world, currently employed in over 50 countries
Physicians are seeing superior results from the Dermaroller®
Dermaroller® therapy is scientifically backed and micro-needling results are clinically proven
The Dermaroller® concept is one of the most innovative concepts in skin improvement in recent years, with continuing research to discover more medical benefits
The Dermaroller® is suitable for all skin types
The Dermaroller® is suitable for all scare depths
The Dermaroller® can be used on almost all skin areas, except for mucous membrane and the eyes. Areas around the eye should be treated with caution. However, micro-needling is contraindicated in patients with a history of keloids.
The Dermaroller® provides visible results after a single treatment and results improve with subsequent treatments (3-6 treatment sessions are typically recommended; 6-8 treatments for scaring)
Your Business: Why DermaSpark
DermaSpark only offers products of the highest quality and efficacy
DermaSpark offers unparalleled training and ongoing support for all clients
DermaSpark invests in strategic marketing and PR campaigns to build brand awareness of treatments and to, ultimately, send clients in your doors
DermaSpark offers comprehensive marketing and promotion support: graphics, banners, signage, brochures, mailers, and more
DermaSpark has a proven marketing and media strategy that has grown new aesthetic treatments into the fastest growing treatments in the country
DermaSpark has an excellent reputation with their clients
DermaSpark sees themselves as a partner in the success of your business