A therapeutic combination of sterile hyaluronic acid & a complex of growth factors for post-treatment applications
Speed up recovery time
Stimulate tissue growth
Promote non-scarring wound healing
Hydrates the skin
Improve overall results
Suitable for every treatment and post treatment
Divine Pyramid Facelift
eDermaStamp micro needling
OxyGeneo 3-in-1 super facial
RF/laser skin resurfacing
Mesotherapy
IPL/laser skin rejuvenation
Chemical peels
HIFU
Acne treatment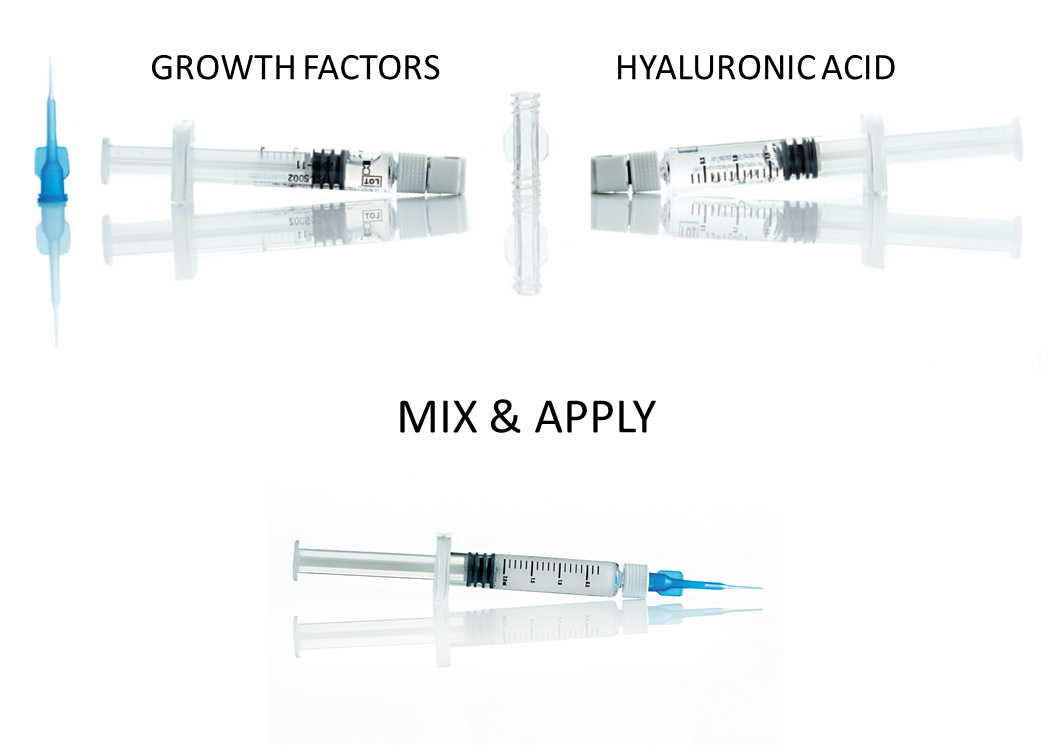 Each ReadyMedical kit includes two syringes:
1.5ml Hyaluronic Acid – Sonicated into low, medium & high molecular weight
0.5ml  Growth Factors – a highly active complex of cell boosters and wound healing agents
The two compounds are mixed together at the moment of application, ensuring stability and potency of the active ingredients.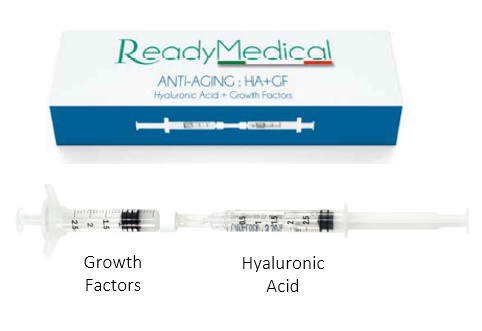 Results vary from person to person
Do you want to be one of the first to carry the Ready Medical product line at your spa or clinic?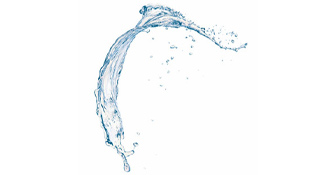 SONICATED HYALURONIC ACID
Highest quality hyaluronic acid, fragmented into low, medium and high molecular weight by ultrasonic waves.
Main benefits:
Intensively hydrates the skin
Prevents trans-epidermal water loss of wounded skin
De-activates free radicals
Carries the growth factors into the skin and protects them in the environment of the wound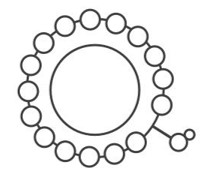 GROWTH FACTORS
An active complex of growth factors work in synergy to maximize the efficacy of any post-treatment healing process
Main benefits:
Accelerate and regulate any healing process
Stimulate fibroblasts, endothelial cells and keratinocytes
Boost regeneration of ECM components (collagen, elastin and GAGs)
Improve cell-to-cell communication
Prevent scarring
How Growth Factors work?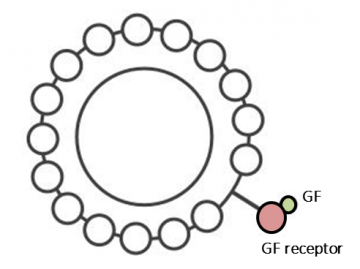 GROWTH FACTORS IN A NUTSHELL
The terms 'growth factor' usually refers to small proteins that carry messages between cells.
GFs are active in every organ of our body, promoting tissue growth, cellular division and cell survival.
Each GF binds with specific receptors on the membrane of the target cell and initiates a biochemical cascade within the cell. This eventually lead to expression of specific genes and production of corresponding molecules by the target cell.
Simply put, GFs give specific production orders to the cells they bind with.
*GF binds to specific receptor and "unlocks" it. once unlocked, biochemical process within the cell activates specific genes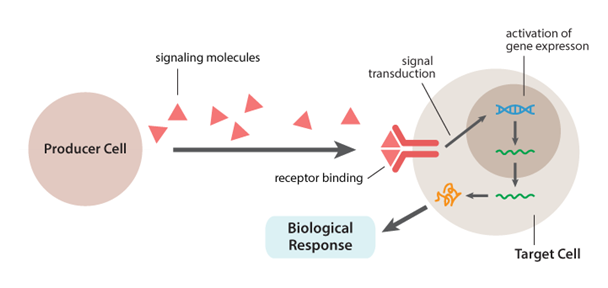 Schematic illustration of GFs in action: GFs released from a producer cell, bind with specific receptors on the membrane of the target cell and initiate a biochemical cascade within the target cell. This eventually lead to expression of specific genes and production of corresponding molecules ("biological response").
Growth Factors and wound healing
GFs are crucial for the healing process of wounded skin. GFs in the skin are secreted by different types of cells, including fibroblasts and white blood cells. They initiate and amplify the healing response by recruiting more skin cells that specialize in tissue repair. During wound healing, GF bind to fibroblasts, keratinocytes and endothelial cells. These cells then undergo biochemical activation.
In other words, GFs stimulate:
Collagenesis: increased production of new, healthy collagen fibers
Re-epithelialization: regeneration of new epidermis by keratinocytes
Angiogenesis: formation of new blood vessels that increase microcirculation and carry more oxygen and nutrients to the healing site
Skin aging is often associated with decreased secretion of GFs by skin cells. Therefore, adding growth factors to treatments which are based on natural a healing process (such as RF micro-needling) is highly recommended.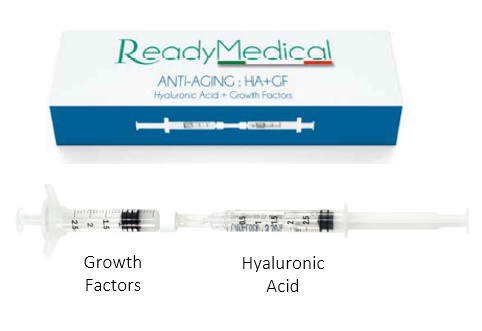 The Growth Factors of ReadyMedical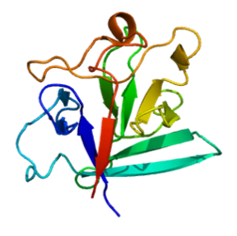 Fibroblasts Growth Factor 1 (FGF1, aFGF)
FGF1 works mostly with dermal fibroblasts, but it can also target endothelial cells (cells that build blood vessels).  FGF1 increases production of collagen, elastin, and hyaluronic acid by fibroblasts. FGF1 also promotes the formation of new blood vessels (angiogenesis) which carry oxygen and nutrients to the newly built skin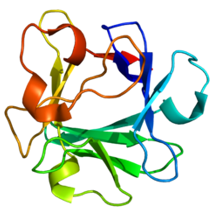 Fibroblasts Growth Factor 2 (FGF2, bFGF)
FGF2 is the twin brother of FGF1. FGF2 targets fibroblasts and endothelial cells to induce regeneration of ECM and formation of new blood vessels. FGF2 has also been shown to promote scar-free wound healing by inhibiting myofibroblasts (type of fibroblasts that cause scars)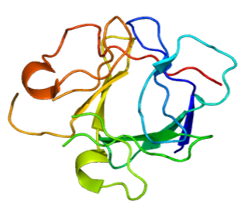 Keratinocytes Growth Factor (KGF)
As the name suggests, KGF primarily targets keratinocytes cells which comprise the epidermis. During wound healing, KGF is responsible to initiate re-epithelization; quick closure of the epidermis by keratinocytes in order to isolate the wounded area and prevent infections. KGF promotes the rebuilding of the epidermis as a stronger and healthier skin barrier.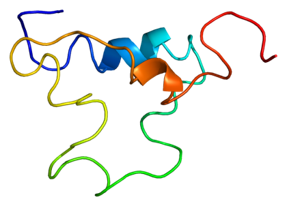 Insulin-like growth factor 1 (IGF-I)
Although IGF-I and insulin share similar structure (hence the name 'insulin-like'), their biological function is quite different. During wound healing, IGF-I activates fibroblasts and keratinocytes, and encourages cell proliferation and migration. In other words, IGF-I boosts the activity, number and movability of fibroblasts and keratinocytes, thus enabling more effective wound closure and skin regeneration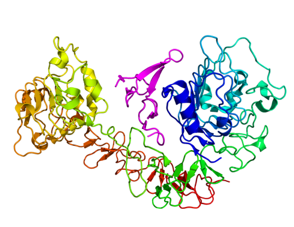 Epidermal growth factor (EGF)
EGF was first isolated by Stanley Cohen in 1962 as part of his Nobel Prize winning work with growth factors.
Since its discovery, the contribution of EGF to wound healing has been well-established. EGF plays an essential role in wound healing by stimulating cells in the epidermis and dermis. EGF is primarily targets keratinocytes which regenerate the epidermal surface after injury. EGF also promotes dermal ECM regeneration and angiogenesis as it activates fibroblasts and endothelial cells.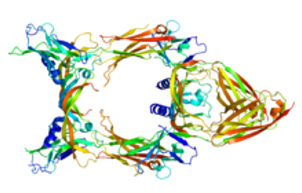 Vascular Endothelial Growth Factor (VEGF):
like other GFs, VEGF stimulates multiple skin cells that participate in wound healing. However, VEGF specializes in angiogenesis – formation of new blood vessels by endothelial cells. VEGF promotes capillary microcirculation in the area of the wound. New blood vessels are crucial for proper wound healing because they provide oxygen & nutrients to other wound-healing cells, allow more wound-healing cells to arrive the site and help to remove debris and other metabolic byproducts of the inflammatory response.

Transforming Growth Factor – β3 (TGF-β3):
TGF-β3 coordinates cells migration and acts as "traffic control" during wound healing. TGF-β3 promotes wound repair in a non-emergency mode which is necessary for the prevention of scar tissue. TGF-β3 prevents premature excessive production of ECM components and allows new collagen fibers to be deposited with a markedly improved architecture in a basketweave formation.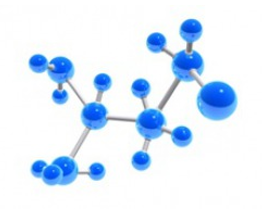 Copper Tripeptide (GHK-Cu):
This small, naturally occurring molecule can be described as a "hyper-growth factor" – a substance that increases secretion of other growth factors in the skin. Studies demonstrated the ability of copper tripeptide to increase secretion of important growth factors such as FGF2, TGF-β3, and VEGF. Consequently, copper tripeptide boosts the activity of fibroblasts cells, keratinocytes and endothelial cells. This results  in ECM regeneration, thicker epidermis and better blood circulation in the skin. Copper tripeptide also possesses strong antioxidant and anti-inflammatory actions which promote a shorter and more effective wound healing.
A therapeutic combination of sterile hyaluronic acid & a complex of growth factors for post-treatment applications

Do you want to be one of the first to carry the Ready Medical product line at your spa or clinic?