Bring TriLipo Technology to Your Clinic with the MAXIMUS™ by Pollogen
Pollogen MAXIMUS™ = TriLipo
With MAXIMUS™, aesthetic practitioners can significantly improve and rejuvenate most facial and body areas. Facial results are impressive, both for skin tightening and jawline lifting treatments. Dramatic body results include localized fat reduction, cellulite improvement, reduction of sagging skin and muscle toning.
Interested in the MAXIMUS™?
LEARN MORE!
---
Triple action fat reduction. Clinically proven results. TriLipo is the only non-invasive treatment that harnesses the body's natural processes for the most effective skin tightening, body contouring, and cellulite reduction results – all without destroying a single cell in your body.
---
Benefits for You
1. Advanced Safety
Safest RF technology on the market.
2. Most effective
The only technology that combines RF with Dynamic Muscle Activation to work simultaneously on the dermis, fat layer and muscles.
3. No stress
The focused TriPollar energy heats the tissue from within and minimized the risk of superficial burns and hot spots.
4. Lower cost
No consumables and no maintenance.
5. User-friendly
Intuitive and comfortable to operate.
Benefits for Your Clients
1. It works!
Clinically proven to be effective. See immediate and long-term results.
2. Most comfortable
No burns, shocks, itching, numbing or pain.
3. Safest treatment
Works with the body, not against it.
4. Zero downtime
Get back to your daily activity right away.
5. No lumps
Smooth, natural-looking results!
---
No Fat Cell Destruction. Natural, safe & most effective.
---
The body contouring industry has boasted about the destruction of fat cells, but is that a good thing?
Fat tissue is crucial for many metabolic and hormonal processes. The number of fat cells is tightly regulated and remains relatively constant during adulthood. Artificial destruction of fat cells upsets the body's natural equilibrium and causes it to compensate by producing new fat cells or expanding existing ones (in other areas of the body). In the long term, it's likely that fat, which was unnaturally eliminated, will reappear.
TriLipo, on the other hand, works with the body – not against it – to encourage natural fat metabolism and provide unparalleled body contouring results, safely.
---
Every body can be treated with TriLipo
---
TriLipo is unique because it can treat nearly any area of the body, no matter how big or small the treatment area is, while other popular treatments are limited to large, flat areas of excess fat and flesh.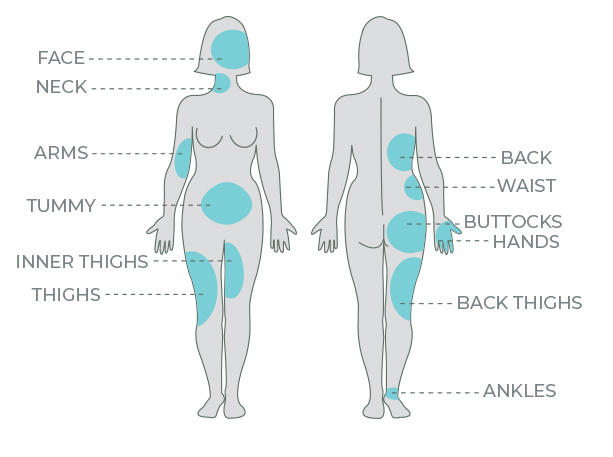 ---
The Best in Body Contouring
---
With all the different methods of non-invasive body contouring treatments available, how do we choose the best and safest option for patients?
Cell Destruction
Cryolipolysis (fat-freezing) and ultrasound cavitation
Unnaturally kills fat cells
Non-invasive, but painful!
Destroys fat, but increases skin laxity
May provide the desired outcome in the short term but causes potential long-term adverse effects.
TriLipo (TriPollar RF + DMA)
Superior technology uses focused energy, consumes less power and delivers better results
Releases fat from cells, removes fat, tones muscles and reshapes the body with the addition of DMA
Effective technology for reducing fat without destroying fat cells
TriLipo is the only body contouring treatment that tightens skin, reduces fat and enhances muscles, all in the same treatment!
Bipolar Radio Frequency (RF)
An older, inferior generation of RF technology
Heating is more superficial and less focused
Uses excessive power and increases the risk of burns and hot spots
May be sufficient for skin tightening, but not effective enough for fat reduction.
---
---